Principal Reports
---
Helps The Principal
Review Section Wise Needs
The Principal's Reports shown here provide Topic Wise Strengths of all sections in each class (here, for example, for Division A & B of Class IV in mathematics).
GREEN means good, BLUE means moderately good and PINK/RED means limited.

The last few concepts, for example, Geometry and Factors & Multiples are the weakest for Class IV in both sections while Number System and Addition are the best topics in both sections.

See similar reports below for English and Hindi for Class IV.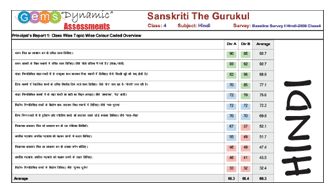 Re-Imagine Study Materials