About GEMS
---
GEMS – Global Education Model of Schooling
A Model of the COUNCIL FOR GLOBAL EDUCATION, USA / Iceland / India
Providing both support and challenge at the level of a child, GEMS is:
A new Way to Assess
each child against his / her own potential with diagnostic and formative tools. Schools provide one to six such reports to the students each year.
Is every child making progress? GEMS objectively measures a child's progress.
Is every child doing the best against his / her own potential?
Progress is measured against a child's potential (competition with oneself).
GEMS is all about the future. It does not matter what the starting point of a student is. It matters where we are taking him / her now.
GEMS is a dynamic assessment process, focused primarily on improvement and progress as measurement of individual success.
GEMS assessments incorporate goal-setting, transparency, accountability and partnership in their design.
Premise 1
Compete With Yourself! Every child is special. All children are gems!
Premise 2
Pedagogy Based on the Four Building Blocks of Education as promoted by the Council for Global Education.
GEMS Goals of Education
The purpose of GEMS is to:
Develop an Intrinsic Love For Learning
Nurture Cooperation and Team Spirit
Promote Discovery
Inspire Leadership Skills
Encourage Competition With Oneself
Prepare for the Unknown
Inculcate Lifeskills
Develop Global Citizenship
Instill Values
Motivate from Within
A New Set of Personalised Materials
Personalised workbooks and textbooks help each child excel. They are
Personalised
Interactive
Connected to Values
Based on Council for Global Education's
four building blocks and twelve governing principles of education (www.globaleducation.org)
A New Personalised Education
The role of education is to bring out the gems latent within each child —to polish and help refine each rock until it shines like a GEM!
A New Set of Tools for goal-setting, planning, timemanagement and life skills!
Teacher Guidelines, Descriptors, Training and Classroom Materials that empower teachers to be effective in imparting education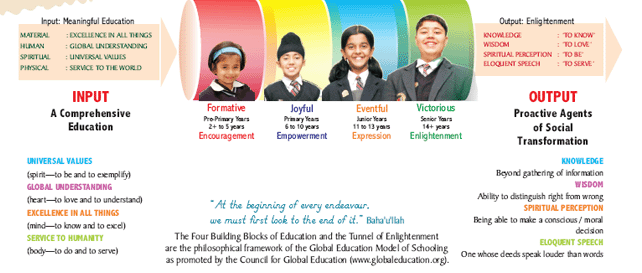 ---
The best way to shape the future is to nurture it
Leaves and Branches -
Skills and Capabilities
Fruits -
Outcomes
The role of the teacher is that of a gardener; to provide each little sapling in the garden the right conditions for its optimal growth and development. A teacher does not create the potential. This is already inherent. A spruce tree will be a spruce tree, a mango tree, a mango tree. A teacher creates the best conditions for every child's growth.

Just like different plants need different soils and different amounts of sun and water, so must each child be trained as an individual.

To get good results, we must visualize a good outcome. We must already see a child as a successful human being first, capable of becoming a good member of his family, his community, his country and the world, in his / her personal, unique and special ways.

A person has three characters: Innate (God given), Acquired (what one acquires from home and society), and Inherited (from family). Education shapes a person's acquired character. A good education aids every child's highest and best development.
Teacher, a Gardener
Three Characters of a Person
First: Innate Character
Second:
Acquired Character Which Is Shaped In the Classrooms
Third:
Inherited Character
---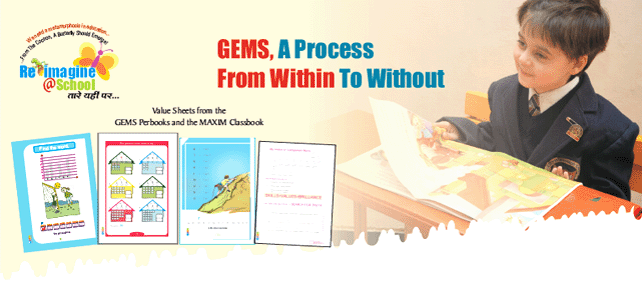 Values Integration
GEMS creatively weaves in values
Human values and life skills are interwoven into all aspects of a child's planning from the earliest childhood. It is far more important that a child be good, endowed with all the human virtues, than a child be smart. Of course, if a child is both "good" and "smart", the result is light upon light.
Nurturing Self-Confidence
Research shows that students with high self confidence do much better in school and in life than those with low self-esteem. By focussing on progress, the GEMS Programme endorses a child positively every step of the way.
Inspiring Every Child to Become Both "Good" and "Smart"
The GEMS approach to the teaching learning process, its focus on competition with oneself and its use of peer and self-corrections, when implemented in their true spirit, are consistent with the preparation of a child for life beyond
the classroom. GEMS promotes self study and the consolidation of topics before moving on. It develops an inner desire to excel.