Perbooks Perfect Yourself!
---
Level Wise Study Materials That Fit Every Child's Personal Diagnosis

Perfect Yourself!
Perbooks are topicwise study materials that are levelled or graded from easy to difficult in each topic. As a child moves from a Perbook at one level to the next, s/he improves in understanding.

Perbooks are short and visually attractive. They combine elements of both textbook and workbook and are easy to follow. Children love working in them.
Depending upon a child's diagnosis, GEMS automatically assigns Perbooks according to each child's personal needs and divides them up into three priority groupings in two categories: Compulsory and Optional.
There are over 300 Perbooks spanning all the topics in mathematics and English from KG to Class VIII.
GEMS Perbooks Help Pupils Meet Their Personal Study Targets

Using Perbooks
The GEMS programme helps students set goals and time manage progress.
How Children Set Goals and Manage Time

All students of a class make a paper cut out, for example, a flower cut-out with the number of petals equal to the number of Perbooks they are assigned for a term. All these are pinned to a soft board in the class.


The students colour a petal as they complete each Perbook (once accepted by the teacher as complete). The short term goal is to complete one Perbook per week and the long term goal is to complete all Perbooks allocated for the term. The students can always add to the allocated set of Perbooks by adding more petals.
Look, for example, that Pupil 2 on the right has completed 8 out of his 9 Perbools for the term in just one month! He can continue to do Perbooks at higher levels beyond those completed. Pupil1has completed according to the given goals but Pupil 3 is falling behind goals for which some motivating is required.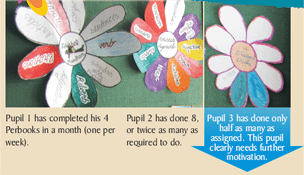 Remedial Action
Instead of waiting for the end of a term test, teachers can motivate and take immediate remedial action when effort is lacking. The students learn important life-skills. They learn to set goals, manage time and self-evaluate their own progress. Each one is propelled to move forward in a highly intuitive way.
Goal-Setting
In the MAXIM Classbook too (see later), 'My Index of Completed Work' is a way to keep a track of which modules a pupil has completed. It further helps to differentiate between study objectives without differentiating between pupils. A pupil may have completed all compulsory and optional modules in one topic and only partially in another topic, in which s/he may need greater support.