Get Go Green Strategies for the Teacher
---
How To Use? Each teacher is given a set of Go-GREEN Strategies which help her engage the whole class in a process of perfection and to improve class average.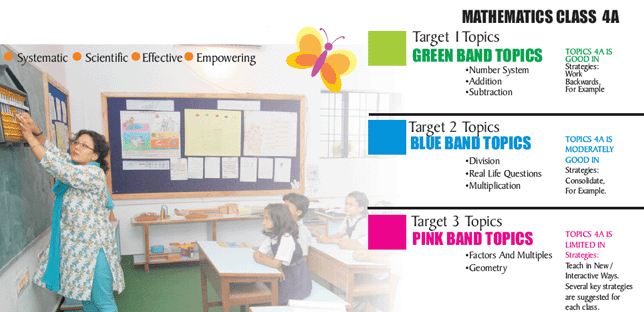 A Teacher's Job Made Easier
With the class report and the Go-GREEN Strategies for the teacher, s/he is able to make plans that help differentiate between student needs without classifying them as weak or strong. Instead, the focus becomes fixing any topic-wise difficulties and identifying those students in each topic that need extra help.
Process of Perfection Of A Class
When diagnostic information is coupled with strategies for class success, a teacher is able to use time more effectively to improve her class average. For example, less time is needed to cover all topics in the GREEN Band of a class, while most time is needed for topics in the PINK Band of a class. Thus, instead of allocating equal time for all topics, priorities are allocated based on the results of the benchmark survey for each class and section.
Re-Imagine Study Materials