Formative Reports for Each Child
---
Moving away from classifying children by their overall averages, remedial teaching is planned topic wise. Even a student with the lowest average in a class is strong in some concepts. This builds a child's self-esteem. GEMS sees the glass as half full, not half empty.
Formative Information Forms...
Every child progresses and every child shines like a GEM!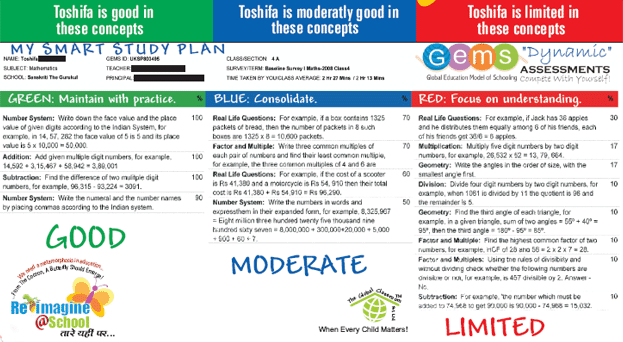 How Students Benefit
| | |
| --- | --- |
| • | Separate reports for each child and subject are detailed and informing. |
| • | Colours make it easy for a student / parents to follow. GREEN means good, BLUE means easy to convert to good, RED means needs most attention. |
| • | Children get to know their own strengths and weaknesses. |
| • | Both parents and students become more informed and active partners in the learning process. |
How Parents Benefit
| | |
| --- | --- |
| • | Parents really appreciate the reports. |
| • | No more telling the parents your child is weak, year after year. |
| • | Instead, show them where their child is weak along with where the child is strong. |
| • | Self-analysis, planning, goal setting and time management are built in into the design of the project. |
| • | Children show tremendous improvement. |
Every Student Gets a Personalised Diagnostic Report Like The One Above.
---
Get Go Green Strategies / Smart Study Plans
Working With Self-Knowledge
Children rarely work with prior knowledge of their strengths and weaknesses. When asked how they will improve their average, the answer often is "I will work harder." They either begin by revising the first chapter or their weakest topics first.

With the personal smart study plans, there is no more guess work and the students move with certainty, using their time efficiently to gain marks systematically like never before.

While the class teacher works on class strategies (see next 2 pages), the students work with their own personal Go-GREEN Strategies. All engage in a process of perfection before the Progress Appraisal Survey (A2).

First Focus

Instead of giving equal importance to all topics or working on their weaknesses, they first focus on the topics in their BLUE Band as they are easy to convert to full scores.

Next Focus
Then they work on their areas of weaknesses as in the RED Band.
Last Focus

To maintain the topics in the GREEN Band, the students are advised to practice with varied question types, for accuracy and timed practice, for example, in mathematics. For every subject, detailed guidelines are provided.


After working with these strategies, the students show tremendous progress in the process of perfection. Setting personal targets becomes easy. Children can better partner in their learning process, time-manage goals and self-monitor progress.
When progress is the goal!
Away from summative averages that simply classify, we provide visually clear and colour coded reports.

By sharing these details in a formative way, a child becomes an informed partner in the learning process.
The goals are very clear and a child knows he is not just an average, that details matter, and that by brushing up on a few concepts, he / she can move from concepts in blue to green and from red to blue to green and from strength to strength.
---
A Class Report allows a teacher to plan better and work smarter for class success.
| | |
| --- | --- |
| 1. | GREEN BAND |
| | GOOD – Carry On - As most students understand these concepts, a teacher may go over there quickly. |
| | |
| 2. | BLUE BAND |
| | FAIR / MODERATE – Consolidate - Since half the students or more understand these concepts, a teacher may go over these using peer learning methods where possible. |
| | |
| 3. | PINK BAND |
| | PARTIAL / LIMITED– Cultivate - Since most students show a general need to improve understanding of these concepts, a teacher may build up understanding from below class level. Creative and new methods of teaching these concepts may be applied. |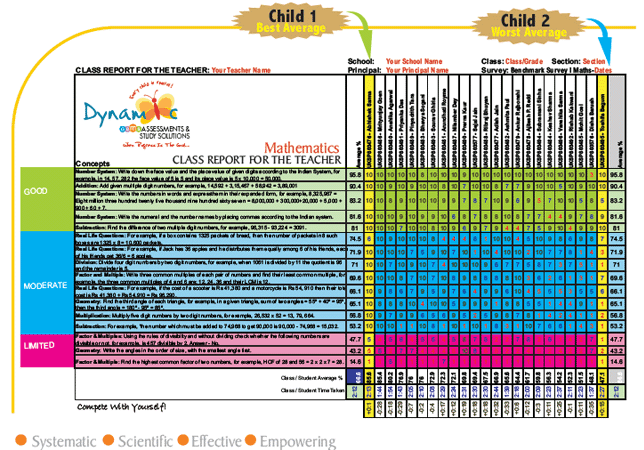 A Class Report Is
| | |
| --- | --- |
| • | A handy reference in a PTA/PTM |
| • | A class strategy which makes teaching more targeted |
| • | An effective tool to help differentiate between study objectives and student needs |
Every Child is Special!
Student averages in the class report below for Class IVA mathematics vary from 47.1% to 85.6%. Class Average is 66.6%. Before the progress appraisal survey about 8 weeks later, students and teachers work to improve these averages working with smart study plans and go-green strategies.