Communicative /Spoken English
Interactive Teaching Methods Make Learning Fun and Easy!
---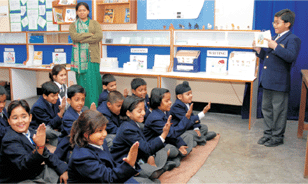 Language Laboratories
Primary focus is on the building of conversation skills (listening and speaking and development of vocabulary). The children have a built-in programme in their regular timetable to attend this Lab.
Audio Visual Programme
Watching carefully selected DVDs provides immersion in the English language for our children who are first generation learners of English.
The Pronunciation Laboratory uses among other things, Bob Baratta's Reading Prgoramme. It is very popular with the students.
Show & Tell Children bring things from home or create props to speak about. The goal is extempore speaking with confidence. Every child gets the same opportunity and the whole class participates in evaluating. This helps develop critical thinking skills at the same time as they learn proper pronunciation, voice intonation for emphasis, the importance of a good beginning and ending, proper structuring of thoughts, the use of props, quotations and poetry, research on a topic, etc.

The children are also appreciated for their 'Show and Tell' skills as well as for dictation, vocabulary, sentence and prose making skills and reading.
Re-Imagine Study Materials