Celebrate Progress for the Individual Child!
---
| | |
| --- | --- |
| » | The Appraisal Survey report above shows any remaining weaknesses of a child following the process of perfection. It furthermore shows the progress made by the student in each topic / concept. |
| » | Even after getting 92% in the Appraisal Survey, the child above has two topics that remain weaknesses: Number System and Real Life Problem Sums. |
| » | In GEMS "Dynamic", these weaknesses are addressed in the new term or during each new process of perfection. |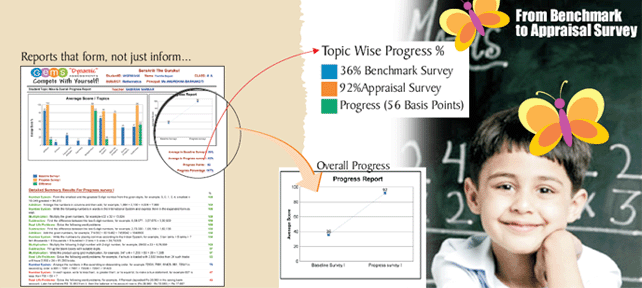 Celebrate Progress!
Progress is both objectively documented and celebrated! This builds an intrinsic desire to excel and do well. Over time, GEMS "Dynamic" builds a different ethic and one begins to compete with oneself, not others!
Every child progresses and all children shine like GEMS!

Before and After the Process of Perfection
Celebrate Progress For The Class!
With the teacher using his / her strategies for maximising a class' success, to the students and parents becoming more effective partners with the formative reports and smart study plans, there is no doubt that progress redoubles compared to traditional systems without such strategies.
Advantages
1.

The Principal can show results of this combined effort to the parents and management.

2.

The Principal can gauge any remaining areas of focus topic, class and section wise and mediate as necessary.